Standing outside the V&A's Museum of Childhood recently I decided to have a proper look at it (I recommend this as a decision you should all take one day or another). It stands just to the right of Bethnal Green tube station. I would say it looks like the attractive lovechild of Paddington station and the old Crystal Palace of the Great Exhibtion (check the link below). I would think you would be blind if you missed
it.
 
The Museum of Childhood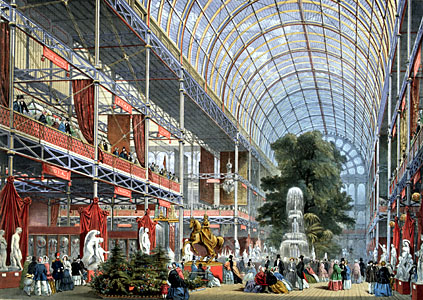 The original crystal Palace
Paddington Station
Whilst I was there, it seemed logical to ask myself, "where has this strange but lovely building come from and what is it doing here"
The answer, powered by Google, surprised me. The building which houses the Museum of Childhood was moved to Bethnal Green in 1866, having first been used as a museum building in South Kensington, in West London. It was built using profits from the Great Exhibition of 1851, and 'they' say the design was not based on Crystal palace but I can't help but think the architects at least had it in mind because the similarity is definitely there.
http://en.wikipedia.org/wiki/The_Great_Exhibition

It was three times as large and used to sit on the site of what is now the V&A we all know and love today. When they decided to "upgrade" to a more permanent structure on the South Ken site they offered sections of the iron frame of the building to North, South and East of London to use at their leisure. The East prevailed and a group of local philanthropists paid for the structure to build a new trade museum.
There is something about this story that I find quite evocative. Like the museum is the shadow of a time that I would loved to have seen.
History lesson over…. Check out these dudes I found inside the museum. Love them!
Love these two! or ter woo...